Projects from the heart that delight the senses—stage, school or street productions, music, dance and concert performances, events, festivals, shows, and celebrations—if it's about creating impact and vibrancy that your audience can feel, Yellow Door brings together the talent, discipline and experience to make it happen.
Browse through our list of capabilities and take a look at our portfolio; then phone or email us to see how we can make your next project a reality.
Floral Wreaths
Using the Garden I create seasonal wreaths for homes and Christenings that are joyful.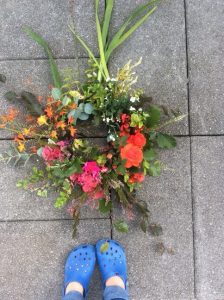 Face Painting
Animals, butterflies, street theatre expressions, or whatever you can envision, for festivals, parties, parades and shows. Faces painted by Yellow Door have been seen at the Inisboffin Regatta 2016, The Connemara Pony Show, Pigfest, the Flora Mini Marathon for Cystic Fibrosis Ireland and Clifden Arts Festival.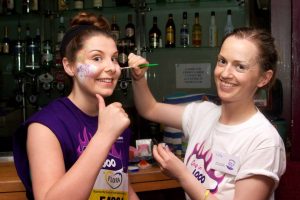 Costuming
Plays, shows and assisting at large events, we can manage the costuming for your event. Experience includes  Stagecoach Galway's Glad Rags, an attempt to break a Guinness World Record, as well as training in costuming at Galway Youth Theatre.  We work with any budget!
Choreography
We create dance to fit the style of your performers and your performance, based on extensive experience with children and professionals in community groups, as well as musical and theatrical companies. Traditional and modern dance, imagination and simplicity, our choreography looks professional without becoming 'fussy'.  We also work with sports and other genres who need movement and choreography for competition or body awareness posture, movement, and musicality.
Direction & Production
The play is the thing. We undertake theatrical projects on a case-by-case basis, bringing a wide range of experience and abilities, professionalism and commitment. See our portfolio for what we have done, and contact us if your project would benefit from our assistance.
Performance
Song. Dance. Acting. Cello. Guitar. On stage, exhibition hall or the street, professional and expressive performance will always be at the very heart of Yellow Door. Contact us.
Sound and Lighting
Sound effects, scores for stage, stage lighting, and sound technicians.