Elaine Enright, founder and driving force behind Yellow Door Productions and principal teacher at Yellow Door Expressive Arts, has many years experience in a variety of diverse projects and performances, as well as teaching accreditation and certification with the ISTD -Imperial Society Teachers of Dance in Modern Theatre Dance, Imperial Ballet and Cecchetti Ballet.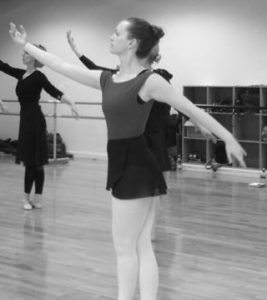 Direction and Choreography
PINK FLOYD THE WALL in Leisureland Galway – 2010
THE GIRL WHO FELL THROUGH A HOLE IN HER JUMPER in the Station House Theatre, Clifden.- 2010
BUGSY MALONE An Taibhdhearc, Galway
A MIDSUMMER NIGHTS DREAM in An Taibhdhearc, Galway
LYSISTRATA in the Belltable, Limerick
Professional Training and Experience…
Choreographed a scene for Fibin theatre company
Performed for 6 years with the Arcana (formerly known as Macteo and Macnas)
Grade 8 cello with the RIAM May 2014
Early Stages Coach at Stagecoach Galway 2006-2009
Facepainted at the Dublin Flora Mini Marthon for Cystic Fibrosis Ireland June 2013                                                                                                       Modern Theatre Dance Teacher at:
Leenane National School where students went on to launch Walking Festival May 2013
Inisboffin National School Nov-Dec 2013
Scoil Chaitriona, Cappamore, Co. Limerick from Juniors to 6th class students Nov-Dec 2014
plus more…
Elaine studied ballet, contemporary, jazz, modern, choreography, performance skills, anatomy, kinesiology, health and safety and dance history before graduating in 2000 and completing her professional exams in ballet and modern, as well as the Performance Dance Certificate from the Firkin Crance Dance Centre in Cork.  Is currently continuing for dance teaching training in Dublin and the UK with her Diploma in Dance Education and is a member of the Imperial Society Teachers of Dance.
Elaine is a former member of Cork City Ballet and appeared in Excerpts of the Nutcracker in the Firkin Crane and Swan Lake which toured the Isle of Man with members of Russion Ballet, Perm State, and Monica Loughman. She sat her first professional exams at 14 and further went on to study in London and Barcelona.
She studied with Limerick Youth Theatre with great Irish theatre names, such as John Breen, Mike Finn, Loughlan Deegan, Ciarde Tobin and Annie Ryan.
Elaine studied production with Limerick and Galway Youth Theatre and then has worked and acted for several professional and semi-professional companies.
Professionally, Elaine has sung in Bunratty Castle as one of the banquet singers and as a "storyteller" of the history at the banquets. She has won the All-Ireland in choral singing and can play piano, guitar, and the cello, which she continues to study. Her first track 'four days later' is to be found on Amnesty International's album Unchained Melodies.